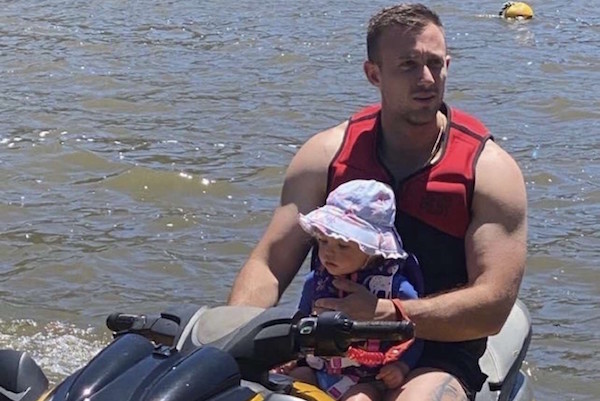 Nick Calleja from Sydney's Mainline Plumbing Solutions has a family member living with congenital heart disease. His one-year-old niece Amelia's diagnosis impacted the whole family, especially Nick's sister and brother-in-law, who lives in Tamworth, NSW.
Nick and his three siblings constantly worry about Amelia, with the hardest part for Nick being that she is too young to communicate the pain that she is suffering and that he cannot do much to help her.
"Amelia experiences a congenital heart block which can cause bradycardia. Amelia seems to cope so well, even after two surgeries she recovers and gets on with what she needs to do," said Nick.
"Looking in from the outside she is the happiest beautiful little girl and doesn't let it slow her down."
Nick's older sister and brother-in-law (Amelia's parents) have been impacted greatly, with constant monitoring and surgeries to ensure that Amelia remains in good health as well as frequent travel between rural NSW and Westmead Hospital for treatment.
Nick's motivation for supporting the 2021 Hero for HeartKids campaign lies within his love and support for his sister and his niece.
"Watching HeartKids support my sister and brother-in-law during their greatest time of need has motivated me to help HeartKids do the same for families going through similar situations" Nick said.
With his sister being his closest friend and mother figure, Nick wants to do everything he can to support the people who are helping her and ensure that other families receive the same experience in their times of need."This month, I will become a HeartKids superhero by raising awareness through my plumbing, electrical, heating and cooling business. We will do this by raising funds and by educating staff and clients on how HeartKids is supporting and helping families across Australia who are affected by congenital heart disease.
"We are also encouraging the Mainline team to dress up as superheroes to continue the spread of awareness and support the people who do all the great work."HeartKids Australia has supported the family. The family encourages all Australian residents to show support for kids living with childhood heart disease (CHD), this June 18, 2021 with Hero For HeartKids, which encourages people from all walks of life to dress up in their favourite superhero costume, or participate in a variety of superhero activities, including special superhero challenges.
To Be A Hero For HeartKids, superheroes are encouraged to create a fundraising page for their colleagues, friends, family and community to show support. To join the fight, visit https://www.hero4heartkids.org.au and register or donate.
Source: Plumbing Connection